7-night Glacier Discovery Northbound Cruise
Cruise Line:
Holland America Line
Ship:
Noordam
Destination:
Vancouver/Whittier
Departure Date:
5/12/2024
Length:
7
Offer ID:
1494631
The Signature Collection – Exclusive Amenities
The Signature Collection Sailings offer Exceptional Value and Exclusive Amenities.
$50 per Couple Shipboard Credit*
*Amenities may not be combinable with all fares shown. Additional restrictions may apply.
Book Have It All Fares for Shore Excursion Credit, Drink Package, Specialty Dining, and Wi-Fi Package for 1st/2nd Guest

Please contact your travel advisor for more information.*
*Promotion is subject to availability, may not be combinable with certain fares or other amenity offers, is capacity controlled and may be withdrawn at any time. Other restrictions apply.
Itinerary
Destination
Arrival
Departure
Vancouver
5/12/2024
5/12/2024 4:00:00 PM
Vancouver is a thriving metropolis surrounded by natural beauty. With parks, beaches, gardens, museums, art galleries and the second-largest Chinatown in North America, Vancouver lives up to its promise of offering something for everyone. With modern buildings set against green, rolling hillsides, this city is breathtaking; no location offers a more spectacular view than Stanley Park - with a zoo, aquarium, totem poles and honking geese. A short walk from the park leads to Robson Street, which offers the town's best window-shopping. Stores with European flavor share the avenue with delicatessens and tea rooms ready to serve. As architectural heart of the city, Robson Square features a central plaza with a food fair and an old provincial courthouse, which now houses Vancouver Art Gallery. Be sure to stop at 8 Pender St. - "the narrowest building in the world." Other points of interest include the Museum of Anthropology; Japanese-style Nitobe Memorial Garden; and VanDusen Botanical Garden. Capilano Canyon is site of the world's longest and highest suspension footbridge.
Inside Passage
5/13/2024
5/13/2024
Imagine being confronted with a myriad of mysterious channels. Following each fjord to the interior, encounter massive mountain ranges, towering cliffs, tumbling waterfalls, virginal forests of two-hundred foot tall spruce, while whales, bears, seals, salmon, eagles and other wildlife. Always they were stopped by an inevitable face of ice - glaciers pushing inexorably downward to meet the sea. What must have been a mapmaker's nightmare is today cherished as the continent's last great untouched wilderness, harbouring the world's largest temperate rain forest. An Eden of the North to captivate the every modern-day explorer. The string of islands of the Inside Passage create a protective barrier to the open sea running from the Washington State/Canadian border and the bottom of Vancouver Island all the way up to the top of Chichagof Island, where the Gulf of Alaska begins its curve westward, offering a supremely serene cruising environment in some of the most dramatic surroundings on earth.
Ketchikan
5/14/2024 7:00:00 AM
5/14/2024 3:00:00 PM
Ketchikan is known as "Alaska's First City" because it's the first major community travelers come to as they travel north. The city is built on steep hillsides and is billed as salmon capital of the world. A quaint village, the town is three miles long and three blocks wide. With fishing boats sailing in and float planes ascending from the water, this seaside town is bustling with activity. With the world's largest collection of totem poles, Totem Bight State Historical Park offers insight into various native cultures of the Pacific Northwest. These wood-carved creations tell colorful, intricate tales – often showing a family history or depicting a local legend. Ketchikan has many options for adventure of relaxation, including mountain bike tours, sea kayaking, seaplane riding, or strolling down the boardwalk of Creek Street, Ketchikan's most famous section with a historic cable car and quaint boutiques. Blessed with an abundance of hiking trails, Ketchikan offers many breathtaking vistas, including the panoramic, 360-degree view from the top of Deer Mountain.
Juneau
5/15/2024 10:00:00 AM
5/15/2024 10:00:00 PM
Juneau is one of America's most beautiful state capitals, with the looming summits of Mt. Juneau and Mt. Roberts providing a gorgeous backdrop. Once part of Alaska's Gold Rush, the city boasts natural and manmade attractions. Downtown is filled with many vibrant buildings, including must-see St. Nicholas Russian Orthodox Church, which houses artwork and artifacts dating back to the 18th century. From the bright mural in Marine Park to the carvings in House of Wickersham, downtown is filled with Alaska's own unique brand of culture and architecture. Often hailed as Juneau's most impressive sight, nearby Mendenhall Glacier is approximately 12 miles long and 1.5 miles wide. See the glacier on a float trip or a "flightseeing" adventure, or hike up one of its trails for a closer inspection. For a bird's-eye view, the Mt. Roberts Tramway offers a short, six-minute trek to the top of Mt. Roberts, 1800 feet above the city. If wildlife is your passion, scenic Admiralty Island has the world's highest concentration of brown bears.
Skagway
5/16/2024 7:00:00 AM
5/16/2024 8:00:00 PM
This "Gateway to the Klondike" watched as fortune-seekers headed to Chilkoot and White Pass Trails during Alaska's Gold Rush. Today, feel like a prospector in Skagway, as you walk along its rustic boardwalks and frontier-style storefronts. This cozy town offers a pleasant respite from the hustle and bustle of most cities. With classic cars and one of the oldest narrow-gauge railroads in the world, the city retains the flavor of days gone by and remains an important link to Alaska's history. A stroll down Broadway is a must. Highlights include Arctic Brotherhood Hall. Other buildings like the Trail of '98 Museum, Corrington's Museum of Alaskan History and the Alaskan Wildlife Adventure and Museum present different facets of prospecting times. Before hitting famous Chilkoot Trail, there are other well-marked trails to try. Hiking to Lower Dewey Lake is an easy, 20-minutes, and there are more adventurous trails to remote Sturgill's Landing, Upper Dewey Lake and Devil's Punchbowl. The White Pass Scenic Railway and Eagle Preserve Wildlife Quest provide additional options.
Glacier Bay
5/17/2024 7:00:00 AM
5/17/2024 4:00:00 PM
Spread across an impressive 3.2 million acres in southeast Alaska, Glacier Bay National Park and Preserve offers an inspirational glimpse of what Mother Nature does best. The head of Glacier Bay is Tarr Inlet, where scientists have found exposed rock believed to be more than 200 million years old. The Tarr Inlet is home to Grand Pacific Glacier, an active body of ice slowly making way toward Margerie Glacier, which it last touched in 1912. Johns Hopkins Inlet is home to no less than nine glaciers. Framed by rocky slopes stretching skyward more than 6,000 feet, these wondrous bodies are eclipsed only by mighty Mount Fairweather, which at more than 15,300 feet is the highest point in southeast Alaska. In northeast Glacier Bay, the snow-covered Takhinsha Mountains feed active Muir Glacier. The brilliant blue glow of a calving glacier and the thunderous roar of ice crashing into the water below are sights and sounds to remember for the rest of your life. With such diverse landscape, the park provides a variety of habitats for animals.
Whittier
5/19/2024 1:00:00 AM
5/19/2024
Whittier, a once-isolated town, is gateway to Prince William Sound. The city is a historical landmark, established by the U.S. Army during World War II. Less than 300 people reside in the town supporting the Alaska State Ferry, the Alaska Railroad, the Alaska Hydra Train, the military tank farm for aviation fuel, the Small Boat Harbor and tourism. See wildlife, waterfalls (watch Horse Tail Falls flow up!), and more! Hike Portage Pass Trail or head to Salmon Runs, beachcomb, bird watch and pick berries. Watersports include boating, sailing, kayaking, and scuba diving. Winter sports include snowshoeing, cross country skiing, and snowmobiling. Begich Towers contains 198 apartments and are 14 stories high. The Buckner Building known as "the city under the roof" was central to this isolated Army outpost. Private developers built the Whittier Manor for civilian employees or military personnel ineligible for other housing. This building has been turned into condominiums. Whittier Visitor's Center is housed in a 1957 rail car, originally built for Union Pacific as a cafeteria.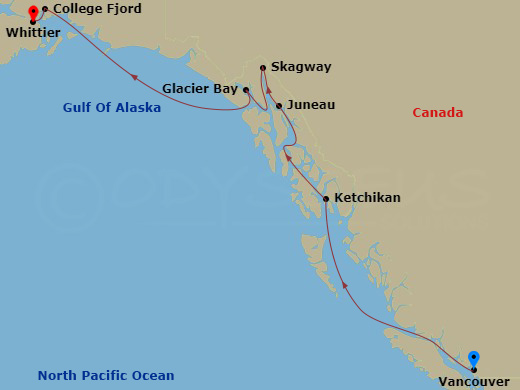 Itinerary subject to change without notice. Please confirm itinerary at time of booking.
Rates are cruise only, per person, based on double occupancy. Taxes, Fees and Port Expenses of $321 additional for all guests. Fuel surcharges may apply. Please ask your travel counselor for details. Rates are subject to availability and may change without notice. Restrictions may apply.
Departure Date:
5/12/2024
Cruise Inclusions:
7-night Cruise
Meals
Entertainment
Available Addons:
Pre or post cruise hotel stay.
Optional roundtrip airfare.
Optional shore excursions.
Offer ID:
1494631

Reference this number when contacting our agency so we may better serve you. Also keeping this number handy will allow you to locate this document again quickly.
Information and pricing is subject to change without notice. While we do our very best to ensure that information and pricing appearing in this website is complete and accurate, we cannot be responsible for incomplete and inaccurate representations, which may or may not be under our control. In the event of a pricing error, misrepresentation or omission, we reserve the right to adjust the pricing or make any other corrections.
Company Info
World Travel
7645 E. 63rd Street, Suite 101,
Tulsa, OK 74133-1208
918.743.8856
800.324.4987