10-night Azure Mediterranean Voyage
Cruise Line:
Oceania Cruises
Ship:
Vista
Destination:
Monte Carlo/Athens (Piraeus)
Departure Date:
8/24/2024
Length:
10
Offer ID:
1462239
The Signature Collection – Exclusive Amenities
The Signature Collection Sailings offer Exceptional Value and Exclusive Amenities.
*Applies to the first two passengers on the booking.
Reduced Single Supplement Rates Save up to 50% on Select Categories and Departures + simply MORE.

Please contact your travel advisor for more information.*
*Promotion is subject to availability, may not be combinable with certain fares or other amenity offers, is capacity controlled and may be withdrawn at any time. Other restrictions apply.
Black Friday Sale! Save Up to $5,400 Per Stateroom + simply MORE When Booking Categories G - PH on Select 2024 Departures.

Please contact your travel advisor for more information.*
*Promotion is subject to availability, may not be combinable with certain fares or other amenity offers, is capacity controlled and may be withdrawn at any time. Other restrictions apply.
Itinerary
Destination
Arrival
Departure
Monte Carlo
Suggested Private Excursion
8/24/2024
8/24/2024 10:00:00 PM
Monaco is famous as Côte d'Azur's playground. With spacious beaches, elegant hotels and lively nightlife, this tiny domain is a jet set favorite and home to some of the world's most expensive real estate. In addition to luxury hotels and beautiful beaches, Monaco is noted for mild climate and magnificent scenery. Monaco and Monte Carlo rank high on every visitor's must-see list. Monaco-Ville is the old city and seat of Monaco's government. The 19th-century Romanesque cathedral Prince's Palace contains impressive works of art and the tomb of Princess Grace, while the Parliament building and Oceanographic Museum, under the auspices of the Jacques Cousteau Society, offer additional sights. Monte Carlo spells sophistication, elegance, and glamour. Every year the rich and famous gather here to bask in the sun, gamble at the world's most opulent casino and attend spectacular parties. The most splendid hotels, several fine theaters, museums and excellent restaurants cater to the elite. Nothing typifies more the elegant lifestyle of the Côte d'Azur than glamorous Monte Carlo.
Suggested Private Excursions
Monaco & Eze - Full Day Tour - 8 hours
Monaco & Nice - Full Day Tour - 8 hours
Rome (Civitavecchia)
Suggested Private Excursion
8/26/2024 8:00:00 AM
8/26/2024 8:00:00 PM
Civitavecchia is the port city for Rome. Rome has always been and remains the Eternal City. With its splendid churches, ancient monuments and palaces, spacious parks, tree-lined boulevards, fountains, outdoor cafés and elegant shops, Rome is one of the world's most attractive cities. Among the most famous monuments is the Colosseum where spectators watched combats between muscled gladiators and ferocious animals. Stop to see the remains of the Forum, once a political and commercial center. Rome's squares were enhanced with such imposing structures as the Vittorio Emanuele Monument and grandiose fountains like the Fontana di Trevi. Awe at Christendom's most magnificent church, the Sistine Chapel. The busy square Piazza Venezia is easily recognized by its imposing Vittorio Emanuele II Monument. Take a stroll to Rome's famous Trevi Fountain. Vatican City is the site of lovely St. Peter's Square and St. Peter's Basilica, where for 200 years, Renaissance masters worked on its design and created an unparalleled masterpiece. Visit Vatican Museum.
Suggested Private Excursions
Civitavecchia: Imperial Rome & The Vatican City - 8 hours
Civitavecchia: Rome for Repeat Visitors - 8 hours
Civitavecchia: Gastronomic Rome and Time at Leisure - 8 hours
Civitavecchia: Museums of Rome - Capitoline and Borghese - 8 hours
Sorrento
Suggested Private Excursion
8/27/2024 7:30:00 AM
8/27/2024 6:00:00 PM
Sorrento is a town of extraordinary beauty and is known as a popular gateway to Italy's most spectacular stretch of coastline - the Amalfi Drive lined with fishing villages and famous resorts. The seaside resort of Amalfi sits with weathered houses scrambling up steep cliffs. Visitors marvel at its location and its magnificent cathedral. The religious sanctuary of Cloister of St. Francis is worth a visit. The tiny, exclusive resort of Positano has its famous world-class hotel, San Pietro. Excavations of the ruined city of Pompeii, which was destroyed in 79 A.D. during the disastrous eruption of Mount Vesuvius, give visitors a vivid impression of life in a very wealthy ancient city and the tragic end of its population. The Isle of Capri ranks as one of the most beautiful islands and has captured visitors for centuries with excellent climate, spectacular landscape and fantastic sea caverns. Capri has lavish villas, elegant hotels, chic boutiques and quaint restaurants. Museo Correale contains a death mask of poet Torquato Tasso and some special editions of his works, pictures, furniture and porcelain.
Suggested Private Excursions
Sorrento: The Ancient City of Pompeii - 6 Hours
Sorrento: The Iconic Amalfi Coast - 6 Hours
Marmaris
8/30/2024 9:00:00 AM
8/30/2024 6:00:00 PM
Despite the many tourists, Marmaris has managed to retain its charm. Marmaris is in the deep recesses of a pretty bay, framed by pine-clad mountains. The sheltered harbor provides ideal anchorage for boats, which are protected from the stiff breezes out at sea. Secluded coves around Marmaris offer nice beaches with hotels and resorts. Many visitors use Marmaris as a starting point for trips to Caunos, an important ancient city famed for its rock tombs. Attractions include the statue of Kemal Atatürk, founder of the Turkish Republic. Also interesting to see is Menzilhane, an Ottoman version of a pony express station, dating back to the days of Sultan Süleyman the Magnificent, who ordered the station built in 1545. Beyond that, one can spend a lazy day in the sun or join locals and fellow visitors in a waterfront taverna. It's fun to stroll along the palm-lined waterfront promenade. Approximately 10 minutes away are good, sandy beaches, backed by green mountains. The clear waters of the Aegean are ideal for swimming and watersports, including scuba diving offered at Hotel Mares.
Antalya
Suggested Private Excursion
8/31/2024 8:00:00 AM
8/31/2024 5:00:00 PM
This sun-drenched Mediterranean town on the Turkish Riviera is a major resort with a beautiful crescent bay, dramatic cliffs, and jagged mountains. It is an attractive city with shady palm-lined boulevards and a prize-winning marina. In picturesque old quarter, narrow streets and old wooden houses huddle against ancient city walls. Antalya's visitors come see the old town with its picturesque harbor and excellent Archaeological Museum. Its outstanding exhibits provide fascinating glimpses into the life of the region. In the surrounding area are additional attractions such as Aspendos, Perge and Side. Their remains of antiquity are considered among the most impressive sites. Visit Hadrian's Gate and Main Square, which with its landmark clock tower offers views of the bay and distant mountain peaks. Karatay Medrese (Theological College) exemplifies the best of Seljuk stone carving. Ataturk Museum features a collection of interesting memorabilia commemorating the founder of Turkey.
Suggested Private Excursions
Antalya: The Greco-Roman Heritage of Antalya, Perge & Side - 7 hours
Bodrum
Suggested Private Excursion
9/1/2024 9:00:00 AM
9/1/2024 11:00:00 PM
Situated on a beautiful peninsula, Bodrum is known as a popular holiday resort. Enchanting villages of white painted houses trimmed with purple bougainvillea together with miles of sandy beaches and ideal locations for water sports. On the southern coast of the peninsula lie the golden sandy beaches at Bardakci, Gumbet, Bitez, Ortakent Yalisi, Karaincir, Bagla and Akyarlar, while on the western side are Gumusluk, Yalikavak and Turgut Reis.
For those who want seclusion, the northern coast boasts Turkbuku, Golkoy and Gundogan - all small simple fishing villages, ideal for those who want a subdued and relaxing atmosphere. While the nights in Bodrum town itself are noisy, crowded and vital, these smaller villages offer cozy taverns and restaurants over-looking quiet bays and can all be reached easily by car or even by boat.
Suggested Private Excursions
Bodrum and Halicarnassus - 4 hours
Patmos
9/2/2024 7:00:00 AM
9/2/2024 6:00:00 PM
This island is known as the site of the apocalyptic Revelations of St. John the Divine, written here during his exile from the Roman Empire. The cave where he lived is near the site of the Monastery of the Apocalypse. The Monastery of St. John, built on one of the island's highest points, houses priceless icons and manuscripts in its Treasury.
Athens (Piraeus)
Suggested Private Excursion
9/3/2024 6:00:00 AM
9/3/2024
Piraeus is the seaport for Athens, the capital of western civilization, which boasts a fantastic mix of classical ruins and vivacious modern life. Climb the hill of Acropolis to wonder at the Parthenon, join the lively Athenians in Constitution Square, and find a welcoming taverna for spirited bizouki music, plenty of ouzo to drink, and energetic Greek dancing. Piraeus is the largest harbor in the country. The white chapel of St. George at its summit has a theater bearing the same name. The hill of Nymphs is the site of a planetarium, which is located above magnificent Thesseio temple. Among all of these hills, Acropolis is the one that glorified Athens and the whole Greek world and became the symbol of the western civilization. Bays and small rocky or sandy coves dot the area and during the summer are filled with Athenians and foreigners enjoying their beauty.
Suggested Private Excursions
Piraeus: The Ancient City of Athens - 8 Hours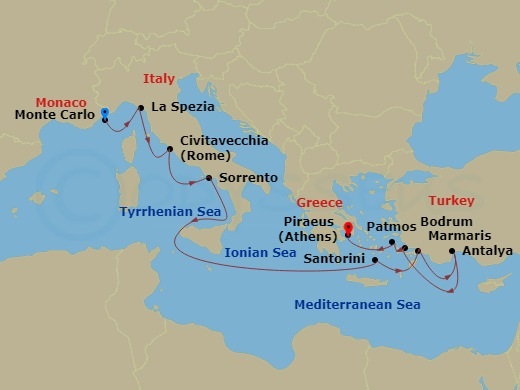 Itinerary subject to change without notice. Please confirm itinerary at time of booking.
Fares are per person, based on double occupancy and reflect all savings. Cruise-related government fees and taxes are included.
Departure Date:
8/24/2024
Cruise Inclusions:
FREE Internet
FREE Specialty Restaurants
FREE Room Service 24 Hours a Day
FREE Shuttles to City Center
FREE Fitness Classes
FREE Still & Sparkling Vero Water
FREE Soft Drinks & Specialty Coffees
FREE Launderette
and more
Available Addons:
Optional shore excursions.
Optional roundtrip airfare.
Pre or post cruise hotel stay.
Offer ID:
1462239

Reference this number when contacting our agency so we may better serve you. Also keeping this number handy will allow you to locate this document again quickly.
Information and pricing is subject to change without notice. While we do our very best to ensure that information and pricing appearing in this website is complete and accurate, we cannot be responsible for incomplete and inaccurate representations, which may or may not be under our control. In the event of a pricing error, misrepresentation or omission, we reserve the right to adjust the pricing or make any other corrections.
Company Info
World Travel
7645 E. 63rd Street, Suite 101,
Tulsa, OK 74133-1208
918.743.8856
800.324.4987